Discover more from The Usonian
Storytelling and Design from the Edge
Mediterranean dispatches
Fires and floods in Greece, anti-migrant violence in Limassol, & disasters all around
A sublime landscape of hills and grass, mountains and sky, all consumed by fire. You might think I'd be talking about California or Nevada or even Canada these days, but this time I'm talking about Greece.
I'm a Californian by birth, and (briefly) a Nevadan by choice. This summer, the East Coast's sky finally went Blade Runner 2049 (it's basically been that way out West since the original Blade Runner came out in 1982). But on my recent trip to Greece, the specter of the great burning returned.
On a day trip to Delphi, I stopped at the Monastery of Saint Luke (Hosios Loukas), established by the Byzantines in the 10th century CE. An UNESCO World Heritage site, the Greek Orthodox monastery features a church with spectacular gold mosaics, the church's design in many ways a smaller-scale version of Hagia Sophia in Istanbul.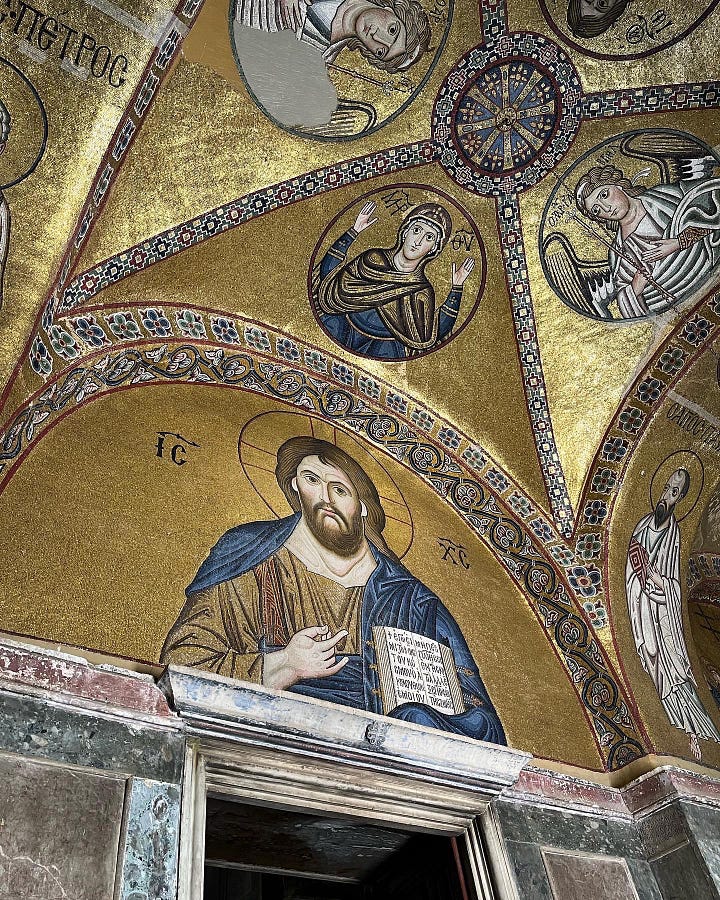 That day the winds were high and fire warnings were present. A few days after our visit, a brushfire nearly burned the complex to the ground. The church was saved, but some adjoining buildings were destroyed. At the same time, fires erupted all over the country.
And then came the floods. Torrential rain has flooded many parts of Greece in the weeks that followed—rain even sweeping away cafe tables in downtown Athens.
Climate change is real, and it's not just in California, or Nevada, or Canada. As an Athenian once joked to me—with all this rain, Greece has finally become a full-fledged member of the European Union.
Anti-migrant violence in Limassol, Cyprus
Across the Mediterranean, another disaster has impacted a city I've written often about—Limassol. On the night of September 1, more than 200 far-right protesters—some disguised by hoods—descended on the Molos boardwalk of Limassol, holding signs that read "Refugees Not Welcome" and "Cyprus is Greek." Five people were assaulted (including two journalists), and the protest was accompanied by vandalism against Syrian restaurants and businesses in the city, breaking glass and setting at least one car on fire. Twenty-one people have been arrested so far.
More encouraging has been the response. Days later, a peaceful anti-fascist protest gathered in the same area, with about a thousand in attendance.
Official refugee camps in Cyprus remain crowded, and as a result of the attacks, tensions are high. The hatred of some far-right groups in the United States are mirrored in the small island in the Eastern Mediterranean.
Disasters in Morocco and Libya
Which brings me to the other, much more devastating news. Morocco's earthquake has claimed the lives of almost 3,000. Morocco, one of the most stable countries in North Africa, is a former French colony with a rich history and culture. It's also a popular spot for film productions and Western tourists. I donated to the Global Giving earthquake fund, which allocates funds to local charities on the ground and has a strong rating. You can also donate to the earthquake fund of the Moroccan Red Crescent, the Red Cross equivalent.
And then there's Libya. The extreme rain in that country—the same storm that has afflicted Greece—caused two dams to burst, leading to a devastating floods that flushed out entire neighborhoods of the city of Derna to see. More than 5,200 people have been killed. Making matters worse is the fact that Derna is not currently administered by the official Libyan state, but a separate administration, a product of the still-unresolved civil war. International aid has been arriving to Benghazi, but that's 180 miles from Derna. Though it is difficult to reach the survivors, the organizations listed on this Time article are accepting donations for their aid efforts.
In a world afflicted by so much strife and tragedy, we don't have to just watch. We can do something about it.
The Usonian Appendix
The Usonian went paid this month! And though the launch offer has expired, there are more to come. Starting today, I'm going to offer 7-day free trials for new paid subscribers. Don't be afraid to try Usonian+ out—the water's fine. And hey, you'd probably spend the $10/month on Pumpkin Nitro Cold Brews or late-season Aperol Spritzes anyway. (I certainly would). Might as well take the plunge?
On a completely unrelated note, it's not just spooky season—but the stern, stressful time of college apps. If you or a loved one is in need of college admissions essay advising, then consider my services. I've been advising university admissions essays for ten years now, and my students have been admitted to places like Georgetown Law School, Harvard University, Dartmouth College, University of Maryland-College Park, University of Wisconsin-Madison, among others. I'll help your student realize their full potential so that they'll write an essay way better than ChatGPT ever could. For remote consulting, I charge an entirely reasonable rate of $70/hour. If interested, please drop a line to my business email, hb.batonentertainment[at]gmail.com.
The Writers Strike is at its end, and the deal with the AMPTP have included protections against AI! Since the ink is still wet on the deal, I'll touch on this further in an upcoming newsletter—but it's huge, and may be an important precedent for the future of writing in general.
Meanwhile, friend of the newsletter Amy Koppelman recently re-released her novel Hesitation Wounds as an ebook on an online retailer. The book, an affecting and artful portrait of grief, had fallen out of print, so it's great for this modern classic to be available again in this new format.
You might also enjoy my article in Princeton Alumni Weekly on the chalice once thought to be the actual "Holy Grail"—and the two all-star professors who got caught up in the debate.
IN THE WEEKS TO COME:
Our Jordanian adventure continues with a modern journey to Petra, the ancient Nabatean kingdom (Usonian+ only—upgrade to a paid subscription today!)

An interview with poet Max Stone on his new chapbook, Temporary Preparations.

Examining a deeply mysterious film of Doxiadis Associates known only by two curious words—"Hip Tags."

Our long-awaited return to Famagusta, Cyprus, for Part IV of our series.
The Usonian is a reader-supported publication. To receive new posts and support my work, consider becoming a free or paid subscriber.