Discover more from The Usonian
Storytelling and Design from the Edge
The Usonian levels up
Introducing Usonian+. Travel the world from the comfort of your inbox. Paid subscribers only.
"Often I feel I go to some distant region of the world to be reminded of who I really am…. That's not always comfortable, but it is always invigorating."
– Michael Crichton
Every once in a while it's important to take a break, reflect, and think about what's next. This week, we'll be doing just that.
The Usonian started in March 2021, when the pandemic was just beginning to recede from global consciousness. My goals in starting this newsletter were simple—I wanted to craft a platform for my writing interests in architectural and Mediterranean history while engaging with the literary work of others. I also wanted a more professional blogging space that I could make my own.
Since then, The Usonian has expanded with three sub-channels—The Cyprus Files, and The World Planner, and The Usonian Interviews—and now reaches hundreds of subscribers each month and thousands more readers. In just over two years, The Usonian has bloomed into a space with its own voice and identity, and for that I'm very grateful for your engagement.
When The Usonian began, I had no idea the deep connection I'd foster with you all, an indication of our shared interest in trying to process the world through literature and history. To those of you who have written to me and informed me of the interest and joy you have experienced every time a new post came into your inbox, I've been flattered and enthralled. Not since my days as the weekend section editor of The Daily Princetonian, or when I started a weekly history column for The Taos News, have I enjoyed such a great relationship with my readers, with much-appreciated constructive criticism in tow.
But I can't keep this up entirely on my own.
When I started the newsletter, I was in graduate school and funded through fellowships. At the moment, I'm freelancing full time, and running The Usonian is a part-time job in itself.
In the world of freelance digital media, the world tends to tell us that our work is worthless. After all, so many publications hand us $75 checks as if it's a great generosity, when it's really a pittance that a feature which takes 80 hours of heavy-duty legwork to research and produce is often paid at the rate of about 93 cents per hour.
I don't expect to live off subscriptions to The Usonian. But establishing paid subscriptions will help underwrite the time it takes to acquire image rights and permissions, defray the cost of domain expenses, and support the research and composition of the pieces that appear on a bimonthly basis.
Because, the truth of the matter is, I love this newsletter. I think about it far too often. I check the front page multiple times each day—does the cover story look good? How can I make The Usonian better? Most of all, I love that people love it. With your help, I'd love to keep it going.
Here's how you can help—and what I can offer in return.
Announcing:
The Usonian+
Of course, I wouldn't ask for paid subscriptions without offering a shiny new perk.
There are many places I've traveled that I've not yet written about for The Usonian. And that's because I've been saving them for this moment.
So, allow me to introduce The Usonian+. No, it's not a TV streaming service, but I thought it would be funny if it sounded like it was one.
Subscribers will get exclusive access to a monthly essay about a different place in the world. It's like the "On Tour" series, but more like, "World Tour." Petra, Istanbul, Valletta, Naxos, and Plovdiv are just a few of the upcoming stops—in which I'll get behind the postcard and tell you what it's really like to visit places often selectively represented in movies and pop culture.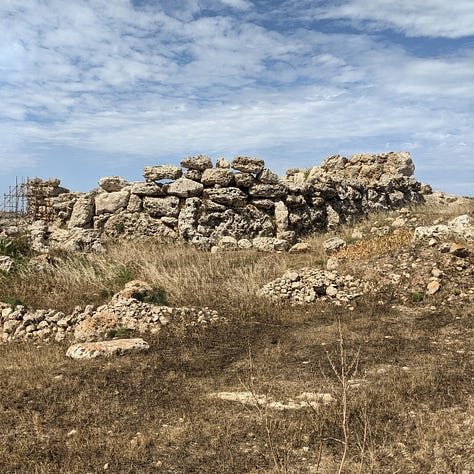 So that's what's being added. Here's what's changing.
What's changing?
The Usonian Interviews will always be free.
The Cyprus Files will always be free.
The World Planner will always be free.
Other older posts may be archived and locked behind the paywall—accessible by subscription only.
What do I get without a subscription?
Your experience won't substantially change. You'll still get bimonthly public posts, including entries in the The Usonian Interviews, The Cyprus Files, and The World Planner.

But what you won't get, are—
What do I get with a subscription?
Access to monthly subscriber-only Usonian+ posts.

Commenting unlocked.

Access to archived posts.

Audio read-alongs of select future posts.

Discounts to future cloud-based writing workshops led by yours truly.

A world where my writing exists and persists on a regular basis.
What are the subscription options?
Monthly - $10/month ($120/year).
Annual - $100/year (Save $20/year).
Magus Level - $500/year (You're not saving any money—you're just looking out for me. But Magus Level subscribers will receive a special surprise in the mail on an annual basis).
What if I've already pledged a subscription?
Then you will be subscribed at the level you pledged at. For instance, if you pledged a subscription at $80/year, your first year will be at $80/year and then go up to standard annual rate the year following.
Special Offer: Subscribe by 9/15/23 for 10% off annual plans
For a limited time, a reduced price is available if you choose the annual plan before 15 September 2023.
Annual - $90/year (Save $10/year).
The new publishing schedule
In the weeks to come, I'll continue the bimonthly publishing schedule on Thursdays, with an additional Usonian+ post added each month.
Next week, we'll begin The Usonian+ with our first trip—to Amman, Jordan—in a subscriber-only post. Then we'll return to our free programming a week later, followed by a week off. So "two free posts sandwiching a subscriber post" is how we'll approach the new format.
Feel free to relay any questions to my business email, hb.batonentertainment[at]gmail.com.
If you enjoy this newsletter, and want to see it continue, please consider becoming a paid subscriber. Till then, I'll see you on the journey, and thank you for everything! I couldn't do this without you. À bientôt, και τα λέμε!